Welcome..........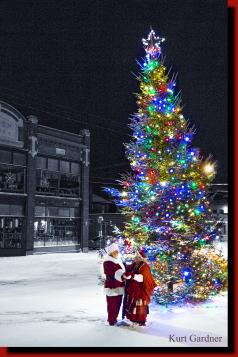 to the Adirondack communities of Old Forge and Inlet, New York. Come visit us Thanksgiving weekend to kick off the holiday season with friends and family.

Area clubs, civic groups and businesses have planned an unforgettable family experience. Santa and Mrs. Claus will be in town and families will be treated to old fashioned horse-drawn wagon rides, tree lighting, a light parade, face painting, Zoo Mobile, pictures with Santa and Mrs. Claus, Candy Cane Hunt, Reindeer Fun Run and more! All free of charge!

Additional venues are also available for your enjoyment. Including the Santa Express Train, holiday arts and crafts at View and Ace Hardware. Keep your antlers on from the Reindeer Run, the fun doesn't stop there -- wear your antlers into the special holiday 2pm matinee at the Strand Theater and receive a free small popcorn and 1/2 price matinee .

Don't want to drive over the holidays? Why not sit back and enjoy a ride from Utica, NY to the Thendara Station where shuttle busses will be waiting to take you to Christmas on Main Street, Old Forge. The Adirondack Scenic Railroad is running on Friday, November 29th and Saturday the 30th, leaving the Utica Station at 11:30am and returning before 9:30pm. Ticket information is available by calling the Utica office (315)724-0700.

Make us part of your holiday tradition; enjoy the place you love during the season of love.
We can't wait to see you!
For additional information please contact: