Welcome..........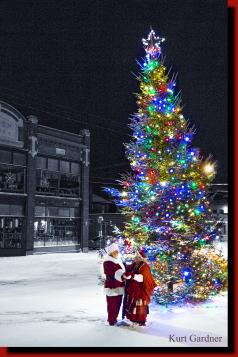 to the Adirondack communities of Old Forge and Inlet, New York. Come visit us this Thanksgiving weekend to celebrate the holidays with friends and family.

Friday, November 23rd - Sunday, the 25th and December 1st and 2nd area clubs, civic groups and businesses have planned an unforgettable family experience. Santa, Mrs. Claus and their reindeer will be in town and families will be treated to old fashioned horse drawn wagon rides, face painting, caroling, tree lightings, a light parade, candy cane hunt and more will keep you busy throughout the weekend.
Something new this year is a 5K Run in beautifully decorated Old Forge and Thendara. 5K Run Course
Race Results Professional Event Photos
Printable schedule of events:
Old Forge Inlet

Don't want to drive over the holidays? Why not sit back and enjoy a ride from Utica, NY to the Thendara Station where shuttle busses will be waiting to take you to Christmas on Main Street, Old Forge. The Adirondack Scenic Railroad is running on Friday, November 23rd. and Saturday the 24th. leaving Utica Station at 11am, returning at approximately 9pm. Ticket information is available by calling the Utica office (315)724-0700.

Sunday is all about the kids. Have breakfast with Santa and Mrs. Claus from 8:30 to 9:30am at Walt's Diner . Kids, make sure you eat plenty so you are fueled up and ready to join our annual Reindeer Run at 1:30 pm, a fun run for kids of all ages. The run takes you from the Goodsell Museum (Historical Association) to the busy corner. Keep your antlers on, the fun doesn't stop there -- wear your antlers into the special holiday 2pm matinee at the Strand Theater and receive a free small popcorn and 1/2 price matinee admission!!!. This year two matinees will be available following reindeer run:
Rise of the Guardians and Wreck it Ralph


Make us part of your holiday tradition; enjoy the place you love during the season of love.
We can't wait to see you!
For additional information please contact: